Yes, I am a compulsive list maker. And no, these are not brilliant policy suggestions. I am not a 'wonkette', I am merely an average citizen who desperately wants a competent President.
If McCain wants to win, he needs some fresh ideas to shake things up.
SO, for your consideration, 50 ideas to get started.
SLOGANS! McCain needs 'em. Good ones.
1. Slogan for Townhall Podium:
McCain - Proven Leadership for America

2. Slogan for MySpace:
McCain - An Old Guy with New Ideas

3. Slogan for security and military talks:
McCain - Because America is Worth Fighting For

4. Slogan for economic talks:
McCain - Balance and Prosperity for America
5. Slogan for convention:
McCain – Integrity, Service, Leadership
6. Slogan for media avails:
McCain – Walking the Walk

7. Slogan for rallies and rah-rah events:
McCain – Pride in America's Future

8. Slogan for summer BBQ (at which pork ribs and pulled pork sandwiches and Budweiser beer are served):
McCain – Save the Pork for the BBQ Pit

9. Slogan for convention:
McCain – Honoring Our Traditions, Celebrating Our Future
10. Slogan for public events:
McCain – Responsible Leadership You Can Trust
THE EYES HAVE IT: VISUAL AND INTERACTIVE IDEAS
11. Hire a pro-McCain political cartoonist to post regularly on the McCain site (or host a contest for 'unknown' artists to enter).
12. Make a Decision Center-style 'chart' showing experience and credentials of McCain and Obama (i.e. 25 yrs in the Senate versus 4, 20+ yrs of military service versus zero, etc.)
13. Create an interactive calculator and chart, showing how much money families would pay in taxes under Barack Obama or John McCain. Add variables for death tax, business taxes, etc. if possible and link to anecdotes/testimonials from people in similar situations (retirees, people with kids, business owners, farmers, etc).
14. Create a montage of funny or humorous moments, showcasing McCain's sense of humor. Include the crowd's response (which is lost in a newspaper or web article).
15. Feature a 'McCain Volunteer of the Day (or Week)' on the website, let them tell their (short) story about why they support McCain and what they're doing to help him get elected. Use first name, profession, hometown and picture.
(Note: since I wrote this draft,
www.mccainnow.com
has started this - great minds think alike!)
16. Feature a 'McCain Voter of the Day' and give them a paragraph to share their thoughts.
17. Feature a quiz/poll for first-time voters on the issues (i.e. many teens and college students don't know if they're liberal or conservative and may be surprised to find they agree with McCain more).
18. Have a Q&A "McCain answers your questions" section on the Website. Have real, average people with pictures of themselves ask a question, i.e. "What are you doing about gas prices?" and have McCain himself film a video and/or printed response. Promote these heavily on
YouTube
,
blogs
and
grassroots
sites.
19. Create a signature graphic besides just the name and the star. (Oh, and don't violate federal law to '
pimp out'
any time-honored symbols of our country.)
20. Let's see more photos of McCain WITH VOTERS, kissing babies, shaking hands, filling sandbags in Iowa.
McCain Blogette
style.
BE A LITTLE LESS DIGNIFIED.
21. Every once in a while, lose the suit. I love the 'Navy' hat, reminds us of your service and makes you look younger and more casual at the same time. A winner.
22. Let us see you drinking beer at your ranch, hiking the canyon with your sons. There is a story here and it is: McCain is fun, relatable, and young at heart.
23. Let Republicans be LOUD. I'm guessing young military folks are a good audience for this. "The rowdy crowd gave him a standing ovation."
24. Theme songs! I still think of Bill Clinton when I hear "Don't Stop (Thinking About Tomorrow)."
25. Bring others up to speak with you too. Bobby Jindal got lots of good exposure intro'ing McCain in Louisiana, but it helped McCain look less isolated. It also gives a rah-rah cheerleader a chance to say what McCain is too humble to say himself.
26. No more black and white montages! Puh-leeeze! Emphasizes McCain looking old, rather than traditions. The new website is a step in the right direction.
27. Would love to see amusing John McCain quote or joke of the day emailed / website-featured.
28. More appearances on unusual TV shows –
Ellen
,
David Letterman
,
SNL
were all good. Send Cindy and Meghan McCain too, women can relate to both of them.
29. Put McCain on
talk radio
, with the pundits who criticized him, to talk directly (and intelligently) with them.
30. Or better yet, put McCain on talk radio (tape delay for common sense protection of the airwaves!) and let him take calls from the audience.
SPOTLIGHT YOUR VOLUNTEERS AND DONORS.

31. See #15 above.
32. Offer prizes or goodies from the
McCain Store
for referring 'friends' and recruits (this is already underway, would like it expanded).
33. Host local, FUN events, Happy Hour, Meetups, to get folks energized and share ideas. (again, grassroots folks are already doing this, but campaign should be funding and supporting this too)
34. Mention them in your speeches: i.e. Jane Smith of Pigs' Knuckle, Pennsylvania sent me $25 and the following note…
35. Tell people what their money goes to: i.e. "$500 funds xx calls to McCain supporters, $1200 buys enough flyers for an entire zip code in a swing state."
36. Have a list of projects donors can 'sponsor': i.e. Your donation of $2137.56 can buy all the centerpieces for the finance reception in Anytown, USA. Thank donors on the website.
37. Have Cindy host a free beer reception for the top volunteers in the area. (And yes, I'm serious.)
38. Feature "first time donors" on the website (like the 'McCain Aces'), have a tally of how many new donors contributed today.
39. Form additional coalitions through the campaign (Doctors for McCain, Clergy for McCain, Teachers for McCain, etc.)
40. Have a running tally of online donations per day – like the telethon (McCain a Thon?). So when people donate in real time they can see how much was donated that day.
SHOW YOU'RE A FAMILY MAN.
41. Have McCain visit schools, even in underprivileged areas, in key swing states, have a town hall with HS kids and address education policy.
42. Invite wife Cindy to open up about being a military Mom. I respect the family's desire for safety for their sons, but sharing her emotional experiences would be meaningful without putting them in harm's way.
43. Share the story of daughter Bridget's adoption and talk more about adoption as a positive social institution and valuable abortion alternative. (This will please both pro-life advocates and socially-conscious swing voters.)
44. Share some experiences as a father: attending football games, taking kids to college, sending sons to war. Don't have to parade the children to do this, just share the Dad's perspective. Dads are important voters too!
45. Include more photos of McCain with his family and kids, including candids. This is relatable and important to anyone who's a parent, and emphasizes family values without traipsing them along for public scrutiny and hassles.
SHINE LIKE A STAR.
46. Emphasize celebrity endorsements in targeted markets (youth, women, etc). Use a testimonial quote, do a fundraiser and take lots of photos to release to the press and even
MySpace
,
Facebook
, etc.
47. Have the celebs who are willing go and hang out with volunteers, answer phones at HQ. (Sadly, there are people who will vote for Obama because they think all their favorite people are doing so – this may be enough just for them to stop and think, or check out what McCain really has to offer.)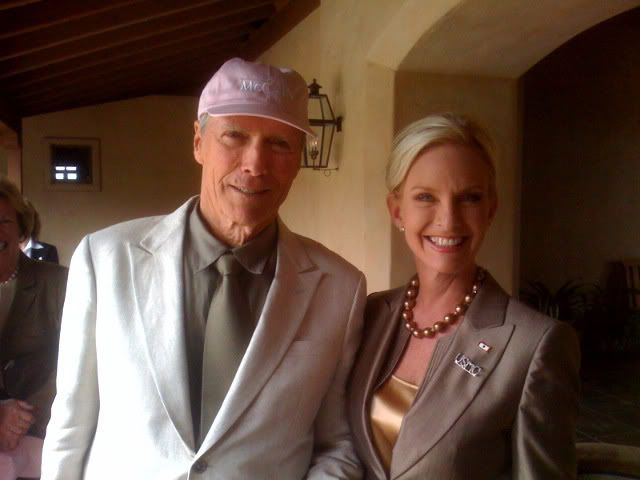 48. Clint Eastwood in a pink McCain hat!! This is so awesome!! But the photo was only on the
McCain site
. This should be all over the Hollywood and movie fan boards.
49.
Tom Selleck
appeals to a broad range of demographics, from women who think he's cute to men who envied his Magnum, P.I. mustache. He is a known advocate of gun rights and other conservative issues and, by all reports, a good guy (a friend met him once while he was filming in my hometown).
50.
Heidi Montag
of 'The Hills' (which, at 31, I think even I am too old to watch?!?) could galvanize young women for McCain. Maybe she and Meghan McCain could do a fashion show event to raise money for the campaign?
Watch for more ideas next week! In the meantime, please join the conversation at
McCainNOW
and the
Ning
networking site.